inSights Spring 2018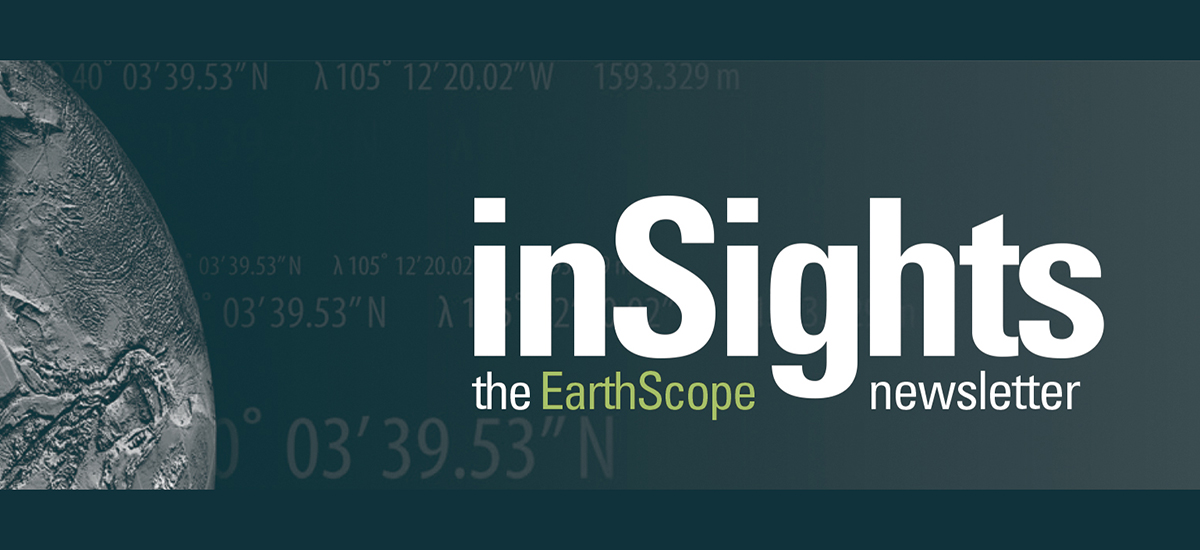 New Synthesis Workshops Coming Up
Save the date! We have scheduled the last round of EarthScope Synthesis Workshops:
Unscrambling the Midcontinent Rift and Grenville Front and Their Implications for the Assembly of Rodinia
July 26–28, 2018. Northwestern University, Evanston, IL.
Application Deadline: May 25, 2018. Learn more about the workshop or apply now.
SAFOD: Reviewing Past Predictions, Key Results, and Future Directions
October 12–14, 2018. Palo Alto, CA.
Application Deadline: August 10, 2018. Learn more about the workshop or apply now.
Life and Death of a Craton: A 4D EarthScope Perspective on the Role of the Wyoming Craton in the Evolution of North America
January 11–13, 2019. Montana State University, Bozeman, MT.
Application Deadline: September 28, 2018. Learn more about the workshop or apply now.
Learn more about EarthScope Synthesis Workshops.
---
Science Nuggets—See Your Research on the Map!
The EarthScope National Office is highlighting the scientific achievements of the EarthScope program. See a sneak peak of the interactive online map, which features summaries of EarthScope projects to engage both scientific and broader audiences. We continue to add new projects, so be sure to check back for updates.
Get your research included on the map—send us your project information by June 15 through the online submission form. If you have already written a project abstract or summary, you can submit that for your Science Nugget and we will work with you on a revised version for the public.
If you have questions or would like more information, contact EarthScope National Office science writer Beth Grassi at bagrassi@alaska.edu or 907-474-7094.
---
IRIS Workshop June 12–14, 2018 in Albuquerque, New Mexico
Foundations, Frontiers, and Future Facilities for Seismology
This workshop will highlight exciting scientific advances using current facilities, and explore future frontier facilities, activities, and techniques. In part, the future of IRIS includes the expansion of the facilities to support interdisciplinary research activities among the solid Earth, hydrosphere, cryosphere, atmosphere and other surface processes, and to create a more diverse geoscience community. Important dates:
Registration Deadline: Friday, May 18, 2018
Abstract Submission Deadline: Monday, May 21, 2018
Special Sessions:
June 11, 1:00–5:00pm: Short Course "Science Communication—Networking Skills for Early Career Scientists," Maïté Agopian (EarthScope), Beth Bartel (UNAVCO), Wendy Bohon (IRIS)
June 13, 5:00–6:00pm: Special Interest Group Meeting "Connecting with Different Audiences: From Podium to the Pub," Maïté Agopian (EarthScope), Beth Bartel (UNAVCO), Wendy Bohon (IRIS)
June 13, 5:00–6:00pm: Special Interest Group Meeting "Contribute to EarthScope's Finale," EarthScope speakers Jeff Freymueller and Carl Tape
---
Invite an EarthScope Speaker to Your University or College
Deadline to apply: June 29, 11:59pm Alaska time
The EarthScope Speaker Series is part of the larger EarthScope Education and Outreach program and seeks to present the scientific results of EarthScope researchers to faculty and students in departmental seminars at colleges and universities. Each Speaker presents science-based lectures on their own EarthScope-related project, and their talks include an introduction highlighting broader EarthScope objectives and accomplishments. Apply to invite a speaker to your University or College today! Learn more.
---
Hydrogeodesy Synthesis Workshop Report Hot off the Press
Read the executive report from the October 2017 Synthesis Workshop, as well as presentation abstracts, discussion topics, and more.
---
Visualization Challenge Deadline October 15
Submission dates: Upload your submission between June 25 and October 15, 11:59 pm Alaska time
With this competition, EarthScope aims to highlight and celebrate the most effective, stunning, and stimulating visuals conveying the work of EarthScope scientists to a broader audience. Entries will be accepted in the following two categories:
Motion: Short animations, audio, or video clips of <5 minutes
Static: Illustrations; 2D data visualizations; graphics; cartoons; drawings; photography; images from sensors, microscopes, or similar instruments, etc.
Visit the EarthScope website for information on submitting, fabulous prizes, and flyers to share.
---
Humans of EarthScope
Do you have a passion for earth science? What started your career? Help inspire future scientists through the "Humans of EarthScope" project, which tells the stories of how scientists using the array of EarthScope data were drawn to their fields of research. To share your story, please contact Beth Grassi at bagrassi@alaska.edu or call 907-474-7094.
---
We Want to Share Your News
Did you receive media coverage of your EarthScope project? We want to help you share your coverage on the EarthScope In the Press webpage and social media. Send the media story title and link to Beth Grassi at bagrassi@alaska.edu. If you have questions, please email Beth or call (907) 474-7094.