New ocean-bottom seismometers complement the Transportable Array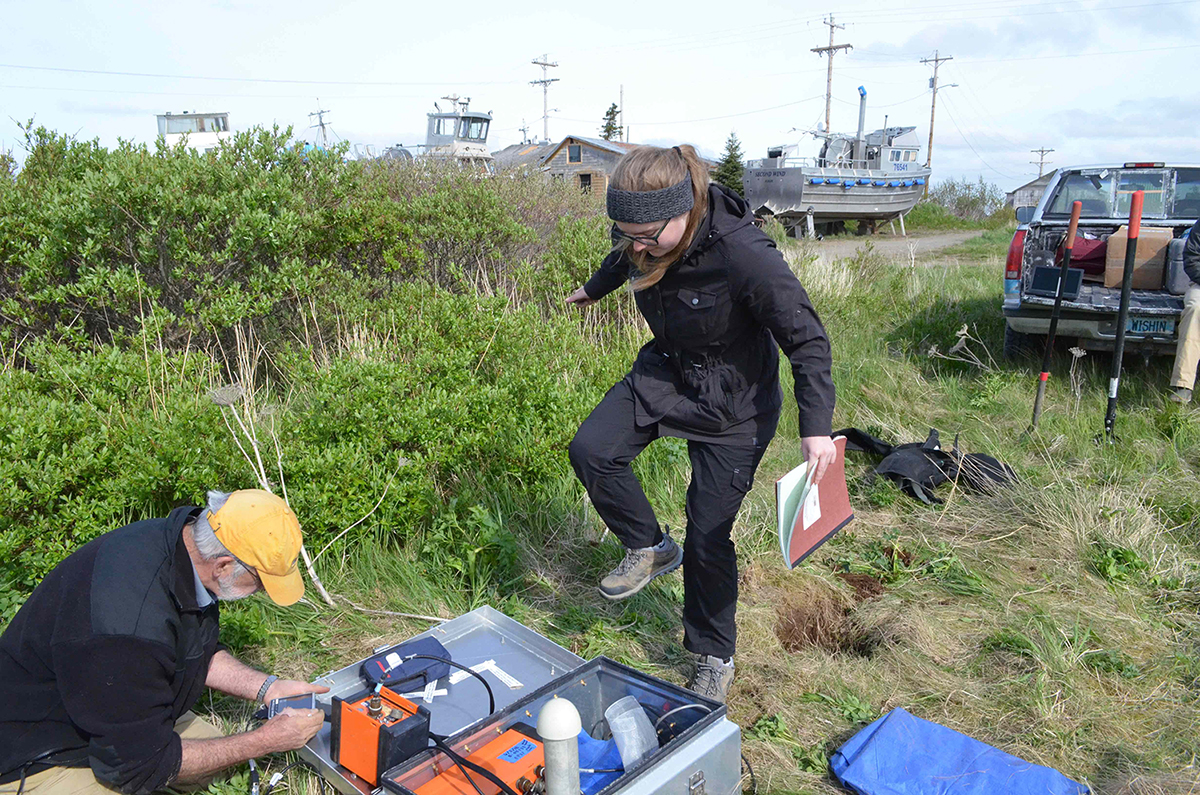 One of the new land stations installed near a school in Egegik, Alaska. Undergraduate student Jordan Tockstein of Colgate University performs a "stomp test" to confirm the functionality of the sensor. Photo by Aubreya Adams.
By Kasey Aderhold, IRIS
The enterprising Alaska Amphibious Community Seismic Experiment (AACSE) set sail during the summer of 2018. Several coordinated field campaigns placed both land and ocean seismic sensors in the Alaskan megathrust subduction zone, the region where the Pacific Plate slides underneath the North American plate.
Led by a team of principal investigators and supported by a large group of community members, the AACSE seeks to better understand the east-central Alaska Peninsula section of this seismically and volcanically active subduction zone. Forty-five ocean-bottom seismometers from the Lamont-Doherty Earth Observatory have been deployed on the R/V Sikuliaq. An additional 30 ocean-bottom seismometers from the Woods Hole Oceanographic Institution were deployed during a separate cruise in July. All ocean instruments will be recovered in the summer of 2019.
The science party for the Leg 1 deployment of ocean-bottom seismometers from Lamont-Doherty Earth Observatory. Photo by Eric Piper.
In addition to the offshore instruments, 30 onshore seismometers from the Incorporated Research Institutions for Seismology (IRIS) PASSCAL Instrument Center will be deployed to supplement and densify the 85-km spacing of the Alaska Transportable Array (TA) seismic stations. Since the Alaskan subduction zone is capable of generating large earthquakes, five ocean stations and six onshore stations will include strong motion sensors, which can measure large earthquakes that overwhelm more sensitive instruments, to complement the eight TA stations with strong motion sensors. More than 100 compact and less expensive seismic instruments called nodal seismometers will also be deployed across the island of Kodiak.
Map of the existing and planned sensors in the area of the Alaska Amphibious Community Seismic Experiment. APG—Absolute Pressure Gauge. AVO—Alaska Volcano Observatory. OBS—ocean-bottom seismometer.
The motivation and timing of the AACSE corresponds to the deployment and operation of the Alaska TA, a network of 193 newly constructed stations and 87 cooperative upgraded or existing stations operated across Alaska and western Canada. The Alaska TA is the final phase of EarthScope's traveling array of seismic sensors, which has leapfrogged across the continental United States to image Earth's structure beneath North America.
All data from the AACSE will be made publically available at the IRIS Data Management Center. Ocean-bottom seismometer data will be archived under the XD network code (http://ds.iris.edu/mda/XD?timewindow=2018-2019) and land data at the XO network code (http://ds.iris.edu/mda/XO?timewindow=2018-2019). More information about the Alaska Amphibious Community Seismic Experiment is available on the webpage, or you can read the blog about the fieldwork. Learn more about the Transportable Array in Alaska.