inSights Summer 2018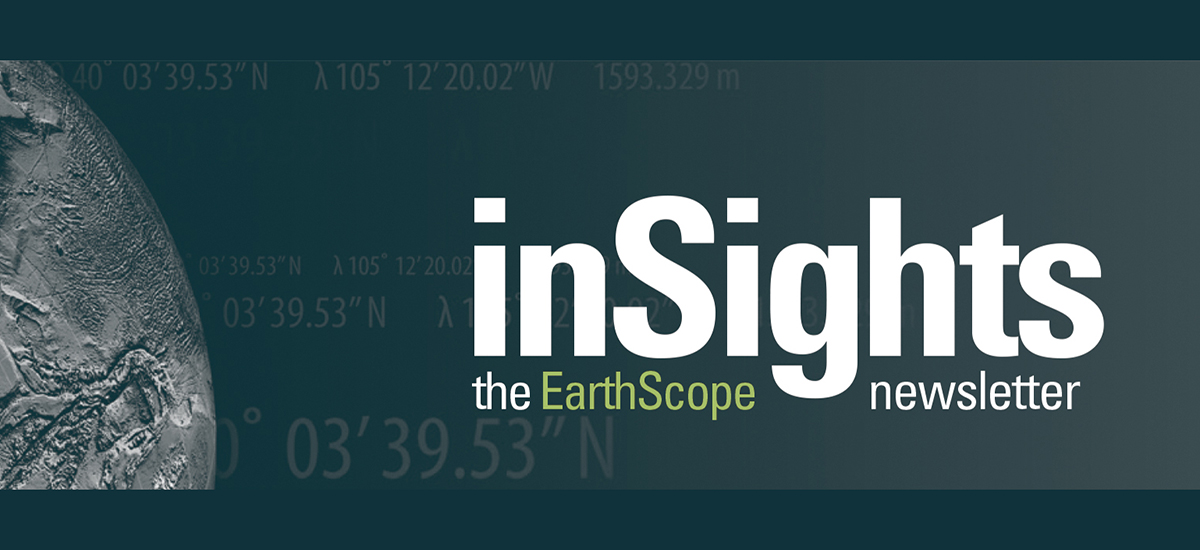 Apply Now for the Final EarthScope Synthesis Workshop
Save the date!
Life and Death of a Craton: A 4D EarthScope Perspective on the Role of the Wyoming Craton in the Evolution of North America
January 11–13, 2019. Montana State University, Bozeman, MT.
Application Deadline: September 28, 2018. Learn more about the workshop or apply now.
Hot off the press! The workshop summary report from the June 2018 synthesis workshop Towards a 3D Model of the Cascadia Subduction Zone is now available on the EarthScope website.
The synthesis workshop SAFOD: Reviewing Past Predications, Key Results, and Future Directions will be held October 12–14, 2018 at Stanford University (the application period is closed). The workshop summary report will be posted with those from all previous Synthesis Workshops here on the EarthScope website.
---
Upcoming Deadline for Visualizing EarthScope Science Challenge
Submission dates: Upload your submission until October 15, 11:59 pm Alaska time
With this competition, EarthScope aims to highlight and celebrate the most effective, stunning, and stimulating visuals conveying the work of EarthScope scientists to a broader audience. Entries will be accepted in the following two categories:
Motion: Short animations, audio, or video clips of <5 minutes
Static: Illustrations; 2D data visualizations; graphics; cartoons; drawings; photography; images from sensors, microscopes, or similar instruments, etc.

Visit the Visualizing EarthScope Science Challenge webpage for information on submitting, fabulous prizes, and flyers to share.
---
EarthScope Transportable Array Highlighted in Arctic Research Newsletter
The many uses of the EarthScope Transportable Array data from the array's Alaska deployment are featured in the article From Sea Ice to Volcanoes: EarthScope Transportable Array Provides a Wealth of New Data in the most recent issue of the Arctic Research Consortium of the United States' (ARCUS) newsletter Witness the Arctic. The newsletter has more than 8,600 subscribers and reaches scientists in a wide variety of disciplines.
---
EarthScope Staff Changes
Jeff Freymueller has moved to Michigan State University as of August 16. Jeff will continue to fulfill his public-facing role of Director of EarthScope, along with other duties related to synthesizing and summarizing EarthScope science. Jessica Larsen will be the new Deputy Director for the EarthScope National Office.
---
Reaching out to Teachers
The American Geosciences Institute (AGI) sends earth science education materials to teachers and educators across the country. In the cover letter for the Fall 2018 Earth Science Week Toolkit—which includes information about Humans of EarthScope and the Birthquake website—AGI gave a shout out to "EarthScope material on what it means to be an Earth Scientist." The kits are mailed to 14,000 educators.
---
EarthScope Speaker Series
The final EarthScope Speaker Series will occur this fall and spring. Get to know this year's speakers on our Speaker Series webpage. The speaker schedule is now posted, so check to see if there is a speaker coming to a university near you!
---
February 14–18, 2019, Washington D.C.
Two EarthScope sessions were accepted for the AAAS annual meeting in Washington, D.C., February 14–17, 2019. The sessions, "Bulge and Rupture—Earth's Surface Response to Earthquakes, Volcanoes, and Groundwater" and "Earth's Mantle Reveals Evidence of North America's Storied Geological Past," will each feature three speakers and cover topics from EarthScope's synthesis workshops.
---
November 4–7, 2018, Indianapolis
Discover EarthScope science at the upcoming GSA meeting. The EarthScope National Office will compile a list of EarthScope-related presentations and posters at GSA, which we'll send out in advance of the meeting. If you attend, swing by the EarthScope booth, number 708!
---
December 10–14, 2018, Washington, D.C.
EarthScope, IRIS, and UNAVCO submitted a joint Town Hall proposal for the upcoming AGU Fall meeting—EarthScope and Beyond: Current and Future Facility Support for Geodesy, Seismology, and Geophysics Research and Education in the Geosciences.
The first part of the Town Hall will cover the emphasis areas for EarthScope in its final year, including documenting the immense scientific impact of the program and legacy projects. The second part will look to the future. In October 2018, IRIS and UNAVCO will begin new 5-year cooperative agreements with NSF to manage seismic and geodetic facilities to support research and education in the geosciences (Seismological Facility for the Advancement of Geoscience – SAGE, and Geodetic Facility for the Advancement of Geoscience – GAGE). The Town Hall will inform current and potential users of these facilities of plans for geodetic and seismic instrumentation, data services, and education programs over the next five years.
We will share details for the Town Hall, as well as a list of EarthScope-related presentations and posters, once AGU releases the full scientific program in October.
---
Science Nuggets—See Your Research on the Map!
The EarthScope National Office is highlighting the scientific achievements of the EarthScope program. Check out the EarthScope Science Nugget interactive online map, which features summaries of EarthScope projects to engage both scientific and broader audiences. We continue to add new projects, so be sure to check back for updates.
Get your research included on the map—send us your project information by October 15 through the online submission form. If you have already written a project abstract or summary, you can submit that for your Science Nugget and we will work with you on a revised version for the public.
If you have questions or would like more information, contact EarthScope National Office science writer Beth Grassi at bagrassi@alaska.edu or 907-474-7094.
---
We Want to Share Your News
Did you receive media coverage or publish a paper about your EarthScope project? We want to add EarthScope papers to our Scientific Publications webpage. We will also help you share your media coverage on the EarthScope In the Press webpage and social media. Send the media story title and link or a link to your paper to Beth Grassi at bagrassi@alaska.edu. If you have questions, please email Beth or call (907) 474-7094.