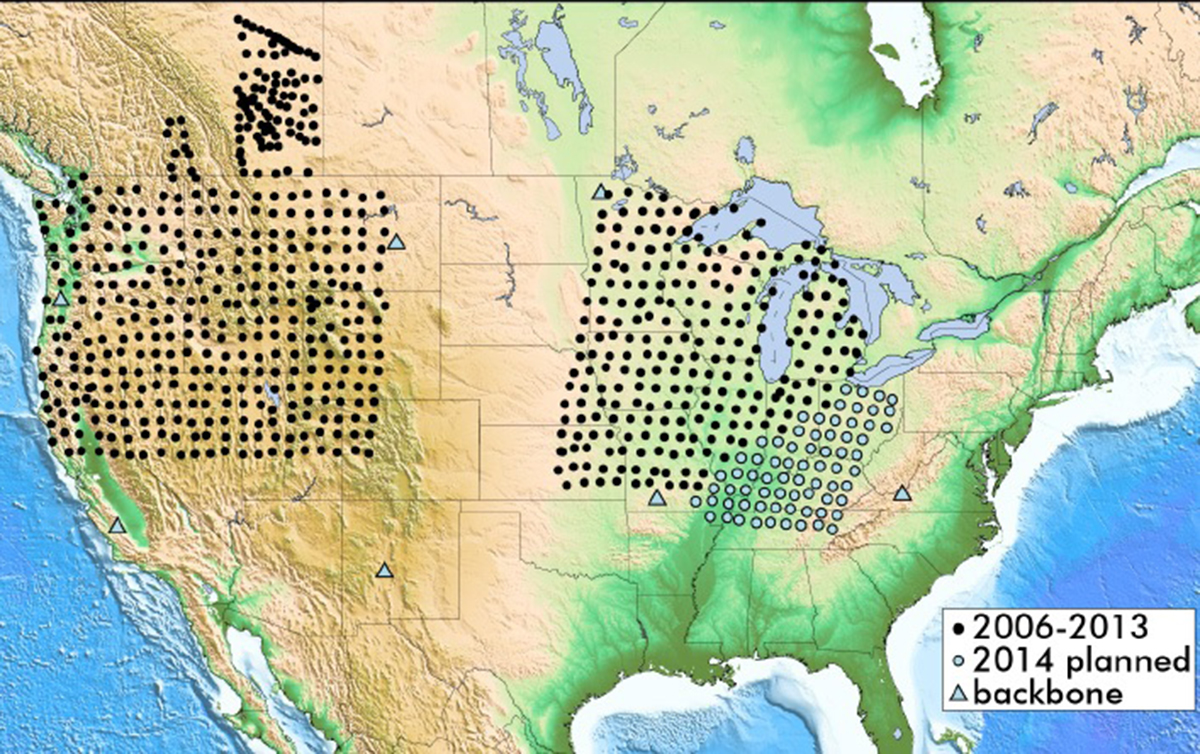 By Perle Dorr, IRIS - Summer 2014
Since the completion of the Transportable Array in the Lower 48 during fall 2013, USArray has focused on the creation of the Central and Eastern US Network (CEUSN), moving the Transportable Array to Alaska, and expanding the footprint of EarthScope's magnetotelluric observations.
Recordings from the 159-station CEUSN (network code N4) will augment existing seismic station coverage to enable researchers and federal agencies to better understand basic geologic questions, background earthquake rates and distributions, and seismic hazard in the region. Targeted stations will transition from the Transportable Array after the standard two-year recording period. In some key locations, where a Transportable Array station was already decommissioned, seismometers have been re-installed. To date, about 100 stations are officially operated under the CEUSN (http://ceusn.ucsd.edu/deployment/).
Transportable Array activities in Alaska and western Canada have ramped up this year. Site reconnaissance for 2014-2015 installations has been conducted, primarily by helicopter, and permits for selected sites are being prepared and submitted to the appropriate federal or state agency or Native corporation. In addition to several test stations that have been operating for about two years, eight new stations have been installed and upgrades have been made to another six Alaska network stations. It is anticipated that a total of 29 stations will be installed or upgraded by the end of October.
In early June, fieldwork was initiated to deploy 71 temporary magnetotelluric transportable array stations in eastern North America, extending the 2011-2013 Mid-Continent Rift footprint southeastward (see map). More than 22 sites have already been occupied in Arkansas, Illinois, Kentucky, Missouri, and Tennessee. Dozens of magnetotelluric flexible array stations, as well as 85 broadband seismic stations and nearly 2,600 geophones, have also been deployed around Mount St. Helens as part of the PI-led Imaging Magma Under St. Helens (iMUSH) experiment (http://imush.org/), an interdisciplinary investigation of the magmatic plumbing system beneath the volcano.
Top image: Magnetotelluric Transportable Array and Backbone Locations (/IRIS)