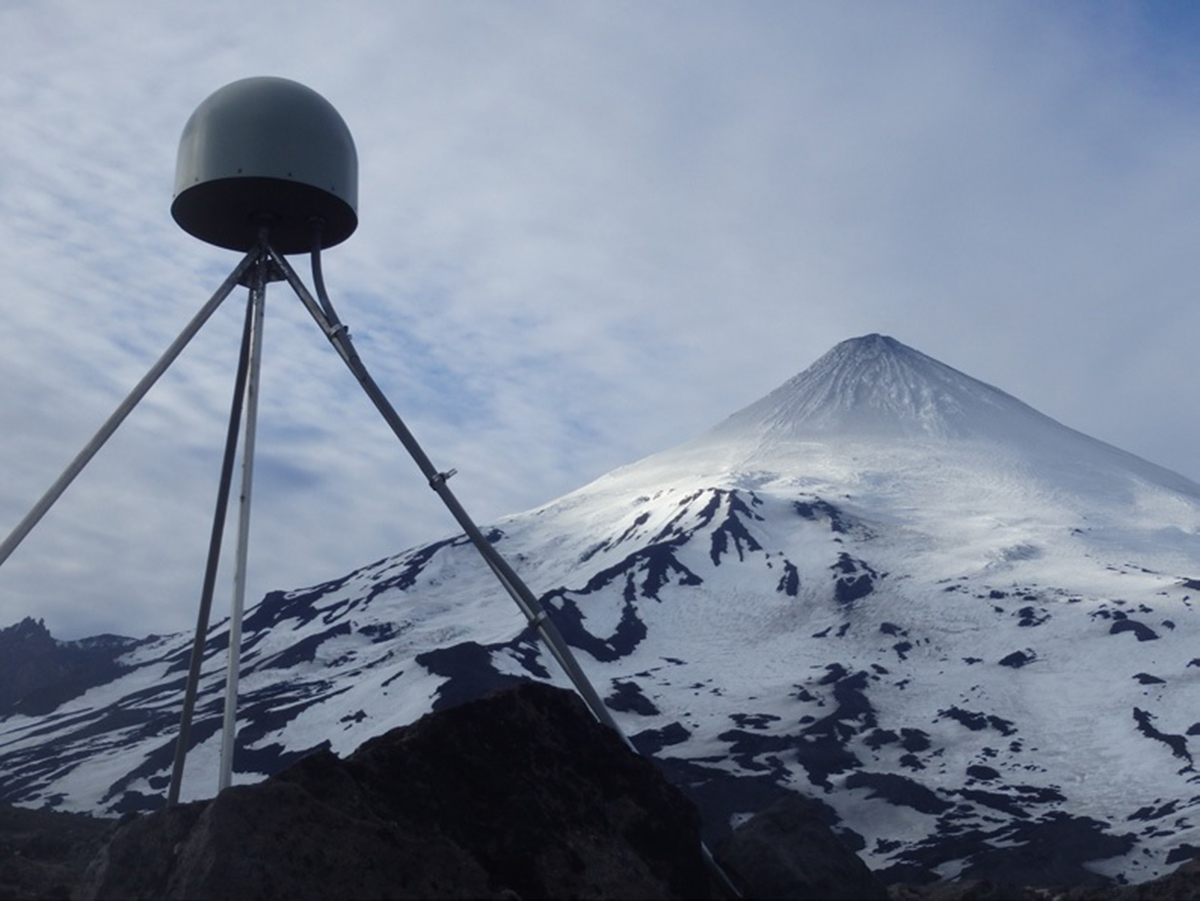 By Ellie Boyce - Summer 2014
With high-elevation GPS stations melting out of the snow and the weather becoming milder, the PBO Alaska region began annual helicopter-based maintenance operations during the last week of May. This year's primary helicopter contract lasted seven weeks and the work plan included stations from Southeast Alaska out west to the Aleutian Arc and up north to Denali National Park and Fairbanks. The helicopter-based UNAVCO field crew made 46 maintenance visits and conducted seven aerial inspections, bringing 29 stations back online by repairing a variety of minor to major problems.
Maintenance on the three PBO Alaska volcano networks is a high priority for our helicopter-based fieldwork each year. This year, we were especially interested in ongoing low-level eruptive activity and an orange or "Watch" alert level at Shishaldin Volcano, Unimak Island (the easternmost of the Aleutian archipelago). Coming into the field season we had two tiltmeter failures on Shishaldin, so repairs were a high priority. Unimak Island is notorious for curious and hungry bears attempting to dig out the edible components from solar panels, GPS monuments, and/or tiltmeter casings. Our Shishaldin Volcano sites AV37 and AV39 tend to be favorite targets. Ryan Bierma (UNAVCO) and Dane Kentner (Alaska Volcano Observatory) made visits to both stations, repaired the bear damage and replaced one tiltmeter to re-enable tilt data collection at both sites. The volcano was pretty quiet as the crew worked nearby, but they did see evidence of recent ash emissions near the summit (see photo).
As of July 30, 2014, 134 PBO GPS sites are operational in Alaska, along with 11 tiltmeters. Four of these GPS sites broadcast data in real-time for surveying and potential use in earthquake or eruption early warning systems.
Top image: Dark, ash-covered snow near the summit of Shishaldin Volcano in the Aleutians is evidence of ongoing low-level eruptive activity near PBO's AV37 GPS station. (Photo/Ryan Bierma, UNAVCO)