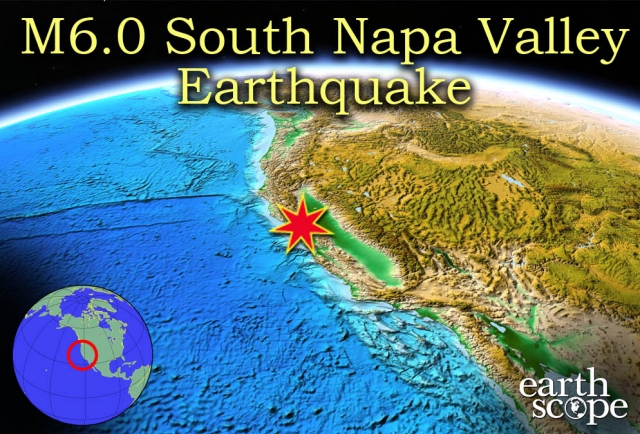 On Sunday, August 24, 2014 at approximately 3:20 AM local time, a 6.0 magnitude earthquake was felt across South Napa Valley and the San Francisco Bay area. The quake damaged many buildings, causing injury to over 170 citizens, power outages, fire hazard, and infrastructure failure. The earthquake was centered 4 miles (~6 km) northwest of American Canyon, and over 100 aftershocks were felt after the main event. The US Geological Survey (USGS) reports this as the largest earthquake to hit the region since the Loma Prieta earthquake in 1989. A state of emergency was declared in Southern Napa Valley after the earthquake, and damage costs are still being estimated.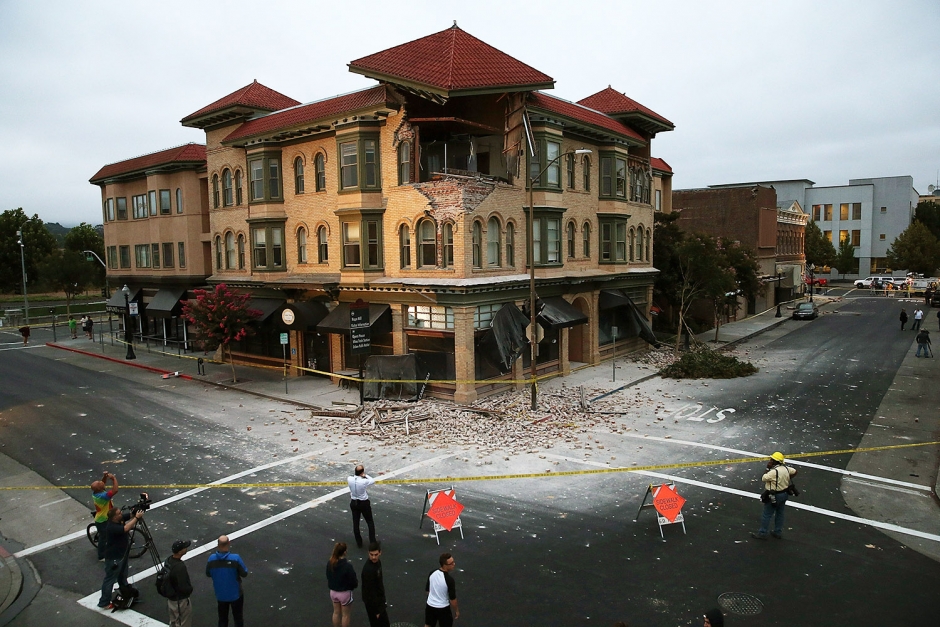 Many historic businesses, homes, and structures were damaged during the earthquake. This and other photographs of the damage are credited to this New York Post website. (Getty Images)
The earthquake is likely to increase landslide potential throughout the affected area, and aftershocks have followed the event and will continue. According to USGS, the earthquake is centered in a series of faults that are part of the San Andreas Fault system. The Pacific plate pushes northwest against the North American plate in both a perpendicular and shear force direction, creating right-lateral slip across the faults in the crust, and significant deformation of the faults and surrounding region. This is a transform boundary, and creates numerous north-south striking faults such as the San Andreas Fault System. Most of the seismic activity in the region occurs due to the transform boundary between the tectonic plates and movement in the San Andreas Fault Zone.
EarthScope, UNAVCO, and IRIS monitor plate and fault movement throughout North America with GPS systems, Plate Boundary Observatories (PBO) and other research methods and equipment in order to learn more about geologic processes in tectonic and continental settings, and to share this information with the public in the hopes that it might be used to prevent or lessen disasters of this scale. The Plate Boundary Obervatory is used to study the active plate boundary zone between the North American plate and the Pacific plate. Strainmeters, seismometers, and GPS stations are used alongside satellite and aerial imagery help us research the physical processes that control continental boundaries and crustal deformation, such as the San Andreas Fault zone. For more information, visit the PBO project page at UNAVCO and the overview at EarthScope.
For more information on the Napa Valley earthquake, visit the IRIS teachable moment, the UNAVCO Data event page, USGS, and Ramon Arrowsmith's Active Tectonics blog. Watch the IRIS video on transform plate boundaries below.
Video retrieved from IRIS EPO YouTube channel here.